Acid Brass is the unlikely but exciting fusion of Acid House anthems with the sound of a traditional British brass band, a concept that has received much appreciation and critical acclaim from varied audiences across Europe and beyond since it started in 1998.
Originally the brainchild of Turner Prize-winning artist Jeremy Deller, Acid Brass demonstrates the versatility of the Fairey band and provides a unique platform for the band to reach new and unfamiliar audiences. Although seemingly worlds apart, Deller's concept stems from strong underlying social and political links between the two movements, and 
both the history of Acid Brass and the music are equally intriguing. 
The project has seen Acid Brass performed in a variety of prominent locations including London (Tate Modern), Paris (the Louvre) and Berlin and more than two decades later it continues to be in demand at high profile music and contemporary art festivals. The distinct nature of the concept invites interest from a wide range of events and venues with recent performances at Under the Bridge Night Club in London, Match Day at the Etihad Stadium, the Manchester Fashion Institute and the Whitworth Art Gallery. 
The success of the project also relates to the mix of technical mastery that the band offers, the quality of the arrangements, with the original set arranged by Rodney Newton capturing the spirit of Acid House music and the electric atmosphere that can be created by the diverse audience at a typical Acid Brass performance.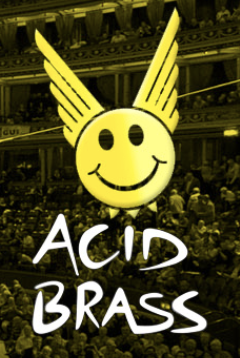 What to expect at an Acid Brass gig
Our main set list comprises of Acid House Anthems from the band's two Acid Brass albums 'Acid Brass' and 'Acid Brass 2 – In Yer Face'. 
1. Can U Dance?, DJ Fast Eddie
2. Jibaro, Electra
3. Voodoo Ray, A Guy Called Gerald
4. Pacific 202, 808 State
5. Strings Of Life, Rhythim is Rhythim
6. The Groove That Won't Stop, Kevin Saunderson
7. Let's Get Brutal, Nitro Deluxe
8. Cubik, 808 State
9. Day In The Life/Can U Party? (Medley), Black Riot/Royal House
10.What Time Is Love?, KLF
Preview 3 tracks from the album below: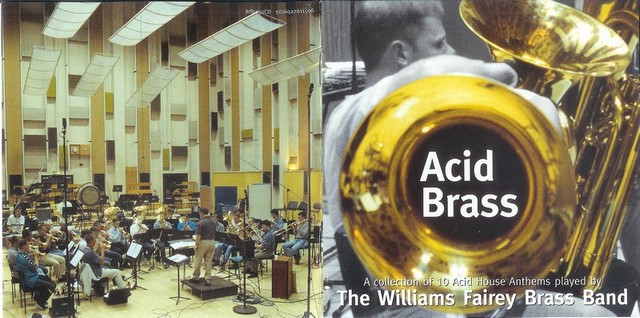 Acid Brass 2 – In Yer Face
1. I Sit on Acid, Lords of Acid
2. Jack to the Sound, Fast Eddie
3. In Yer Face, 808 State
4. Theme from S'Express, S'Express
5. Gonna Make You Sweat, C+C Music Factory
6. Acid Thunder, Fast Eddie, Peter Black
7. This is Acid, Maurice Joshua
8. Oochy Coochy, Baby Ford
9. Lack of Love, Charles B and Adonis
10. Infinity, Gura Josh
Preview 3 tracks from the album below: